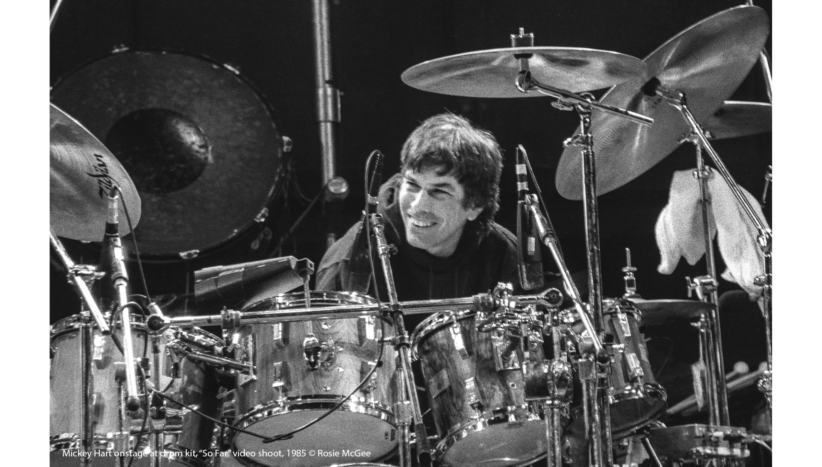 Mickey Hart: God Is Sound
ORIGINAL STORY FROM LA YOGA | By Amy V. Dewhurst | September 8th, 2022
Mickey Hart: God Is Sound
They're called mahatmas. Translated from Sanskrit to mean "Great Soul."  Sometimes they're revered as saints or sages, and sometimes they walk among us like undercover agents. They're human and can be fallible and flawed. But when you take a long look at their lives, it's evident how it all adds up. Big bangs. Quiet ripples. Profound  meaning. Massive impact.
Mickey Hart is known to many as a drummer for the Grateful Dead and Dead and Co. Percussionists know him for introducing "World Music" to the masses through Planet Drum, and his latest album, In The Groove. Academics know his as a producer, and preservationist. Doctors and scientists know him as a supporter, proving the medicinal power of music. And still some know him as a husband, father, and lifelong friend. The psychedelic cowboy, divine horseman, rhythm devil, songcatcher.
From his studio in Northern California, Mickey Hart states, "It's about transcendence, and that's what certain kinds of music does. It takes you from this, your normal waking state, to another virtual space outside of that, and that's one of the powers of music that I've enjoyed over the years, to be able to enhance consciousness and do many things that you can never do without it. So yes, I am in the business of transportation. I don't have trucks, but I do have music." A dharmic assignment that some say he signed up for before birth.
"My parents happened to be rhythmically astute. Both of them were drummers, so it kind of runs in the family" Mickey remarks. The couple won the mixed doubles competition in rudimentary drumming at the 1939 World's Fair. "In the womb, the bass is the heart" he explains, "My mother's heartbeat was beating a tattoo of about 140 decibels, very loud. So I was imprinted, just like everyone is imprinted, with a rhythmic signature even before you come out into the light." Mickey's family hid a drum pad and snakewood drumsticks in hard-to-reach corners of his grandparents' apartment, but the four-year-old always found them. He notes, "That set my whole life on course, and it never ever veered off of that."
Mickey and his mom moved to the attic of an old Cape Cod house on Long Island. The Italian truck driver who lived below had five kids, and a longing for quiet. "He took exception to my drumming skills," Hart recounts, "At about 5:30 [pm] just when he came home from work, he would come up the stairs and bang on the door, and my mom would be there with a broom and she said, 'over my dead body.' [he laughs]. And so, my mom helped a lot, defended my right to play, because remember, druuums are loooud."
Meeting The Mentor
When Mickey walked into the Lawrence High School band room, he crossed a threshold. "There was magic in that room because there was a magician in it," he once wrote. The teen bought a stack of hall passes off a friend with a printing press so he could hang around band teacher, "Jonesy" and the array of drums that he harbored. This earned him a rap-sheet with the principal. In his senior year, he quit school and enlisted in the Air Force. He was ready for his initiation.
Mickey served as a drummer in the Airmen of Note, an elite big band unit that traveled through Europe playing American military classics. He moved off base and in with a metropolitan playboy he had met while buying a used Alfa Romeo. At one of his roommate's parties, the percussionist put on Babatunde Olatunji's Drums of Passion and the jetsetters went wild.
Mickey explains, "Baba had all these drummers playing, but he combined the brass of New York City, Nigerian percussion and the street. It was a giant underground hit; sold millions of records. When I heard that music, and I heard the talking drum on it, it changed my life. I never was the same after that. And that sound resonates even to this day in my mind. So he started back then to influence who I was to become."
Knockin' On The Golden Door
Out of the Air Force and into the musicians' union, Mickey milled around the basement of the Roseland Ballroom hoping for a weekend gig. A letter came from his dad out in California who had just opened a music store. The twenty-something spent the next two years intimately learning the workings (and the things that don't always work), on a variety of drums. Count Basie's percussionist Sonny Payne invited Mickey to their show at San Francisco's Fillmore West theater. That night a nameless, faceless, never-again-seen stranger, introduced Mickey Hart to a guy named Bill Kreutzmann.
About a month later, "Bill the drummer" banged away with his newly named band before jumping off stage at the Straight Theater, saying something like, "Sit in for the second set." By the time the two borrowed drums from a friend's house, got them in a truck, and up onto the stage the next set began. Mickey hadn't yet met these people, nor heard their songs, but the musical conversation that occurred was extra-sensory, soul recognition, sorta stuff. He affirmed, "We knew it right away. Bill knew it, I knew it, the band knew it, Jerry [Garcia] knew it. Jerry said, 'So that's Grateful Dead music! We could take this around the world!'"
Drums And Space
In 1665, the Dutch Physicist Christian Huygen proved the "Law of Entrainment"–  that two objects vibrating at different speeds in close proximity will sync with one another. It happens as frequently with mechanical items like clocks as with coworkers' menstruation cycles. This can happen at an accelerated pace when both beings are committed to it. "We practiced every day, all day," Mickey recalls, merging into what he and Bill called a rhythm machine, a tractor beam.
"He would take the right stick, and I would take a left stick and I'd hold him behind, he'd hold me behind, and we were able to play as one. And we lived together too!" Mickey says laughing. "So you really get to know somebody. Every waking moment was spent practicing, playing. There were thousands and thousands of hours put into being able to play like one drummer or eight hands. That wasn't by accident, we knew we were meant for each other. It's kind of like getting married, you have that relationship that is very close and you feel each other's mind, body, everything, the whole sensibilities about a person, it draws you close to them, and we have that for each other. And we focused on drums, drums being the connecting fiber in our relationship."
Now Is The Time Past Believing
Bill, rhythm guitarist Bob Weir, and bassist Phil Lesh lived in a second band house at 24 Belvedere Street in San Francisco's Haight Ashbury district. Because all the bedrooms were already taken Mickey took up residence in a closet-kinda room, half under the stairs. There was a knock on the door, Mickey retells, "Phil Lesh gave me a record, Drums of North and South India, that Alla Rakha was on." The newest group member grabbed his Indian drum, the tabla, and was primed to play along. He came out confused, asking Phil to confirm the credits which said there was just one, not five or six drummers. The Eastern polyrhythmic time signature blew his ever-expanding mind. "It felt at first unattainable." Mickey admits.
A few weeks later, Hart was invited to attend a performance of virtuosos Ravi Shankar and Alla Rakha. Back in high school he worked as a soda jerk at a jazz club to watch Latin legends like Tito Puente's sticks travel the kit. Now he was mesmerized by Alla Rakha's fingertips dancing atop the tabla. The Hindustani classical musician from a village outside of Kashmir taught the marching band drummer from Brooklyn "rhythm games."
Mickey reveals, "I had to really focus a little bit more than I would in the normal four- fours and threes and sixes, which are the rhythmic signatures of the western music. They play in what we would call odd time signatures, five and seven at nine and all these time signatures that were outside of the rhythmic lexicon. When I found this, it just totally intrigued me."
Nestled into a new ranch home in the Novato Mountains, Mickey and the band gave themselves over to these rhythm games for months. It soon led to songs like "The Eleven." In time, the intricate layering of beats opened infinite possibilities within each song, each set, each concert. Hart offers, "And that changed my life, and the Grateful Dead's life as well…"
While The Music Plays The Band
The rise of the Dead has been meticulously chronicled in books, films, magazines, the cassette tape trade, and early days of the internet. Mickey jokes, "I know what I did every day of my life — any time I've ever played." There are warehouses of their recordings, and an official archive at UC Santa Cruz. There are places of pilgrimage, and historic dates revered, because as the great impresario Bill Graham once said, "They're not the best at what they do, they're the only ones who do what they do."
The Grateful Dead never played the same show twice, and they did it more than 2,000 times, over 30 years. Warner Brothers Music president Joe Smith called it, "One of the great phenomenons of the entertainment world." A group reluctant to take a publicity photo became what many millions consider the greatest rock 'n roll band of all time. The top grossing tour act, who gave their music away to tapers, officially sold more than 35 million albums. They were inducted into the Rock n' Roll hall of fame, received a Grammy for lifetime achievement, and even won an award for packing a record number of people into New Jersey's Meadowlands. Hallowed ground.
54 years, 10 months, and 3 days after materializing into the band Mickey states, "We didn't even have a set list. We just went out there and started a song, and then someone offered another, and then we went there, and then the same thing happened. So, we played for hours without a chart, without a map. We were all going on that adventure together, and we knew it. We were out there in the zone, and we wanted to take people with us. And we've been able to raise consciousness for millions of people."
The allure, the magic, the mystery, the ritual, the rite can perhaps best be described by pioneering anthropologist Joseph Campbell, who gave a lecture at UC Berkeley declaring, "I go to this building with EIGHT thousand people in it, and they're all standing for FIVE hours in a rapture. And I had suspected that there might be something interesting to observe because of the name, the Grateful Dead. That is a phrase that comes from the Egyptian Book of the Dead, and it refers to those dead, which is what we are when we are un-awakened…"
Campbell continues, "And what I felt there was something that seemed to me, to be a true religious experience. Namely, these people were all one; the heart is burst open and one loses oneself in a spiritual experience of compassion, of suffering and living and joying with others who, in the same mode, are having this experience. And so, it seemed to me there, that we had an awakening of the kind that the great religions first intended. And that it somehow involved everybody. There were kids there, there were old people there, and in other parts of the building you could see there were people there just dancing and dancing…. It seemed to me, and I'm meaning this very seriously, a prime religious experience that transcended all the bondage and definition of 'who' and 'what' [which] are the curse of the world today. And so, this I would say, is the answer to the atom bomb."
Let Our Chant Fill The Void, That Others May Know
There was a popular bumper sticker selling in stadium parking lots that read, "There's nothing like a Grateful Dead Show." And while each assembly illuminated a new hue of ascendance some were notoriously surreal. One of them was Egypt '78. By all differing accounts an undeniably mystical odyssey into otherworldly antiquity.
"Yes, that was a beauty," Mickey reflects amorously.
As the Aswan Dam was being built across the Nile River, local villagers knew they would forever be displaced. A Nubian Oud player named Hamza El Din traveled by donkey to collect the stories and songs of his people. He made his way to Marin County, California where Mickey met him.
Hart reminisces, "Hamza, very soft, Hamza was the quiet side, which I had never found before. I mean, he was silence; he was quiet, he was calm, he was centered. He wasn't loud, everybody around me was loud. This was the other side. When I found Hamza, it all snapped in, and it was like the romancing of the air, as opposed to the auditory driving, which is the loud side. It brought people in, it wasn't the music that went out, it was like you went into the music, and you had to listen very carefully." Hamza introduced Mickey to the Tar –a hypnotic frame drum from North Africa that has a recalibrating, calming, cooling effect.
Sometime later, a long-held dream of the Grateful Dead and extended collective started to take shape. Donning rarely-worn business suits, Phil Lesh, GD publishing's Alan Trist, and GD manager Richard Loren convinced multiple government agencies in several countries to allow for a big adventure. The Grateful Dead family of 50+ arrived in Egypt during the last night of Ramadan. The celebratory mood helped ease logistical endeavors, like importing The Who's sound equipment in from England, and mic-ing the 5,000-year-old tomb of Pharaoh Cheops (of which Jerry Garcia reportedly remarked, "This should be weird enough.").
At the right paw of the Great Sphinx in Giza's Sound and Light Theater, the show began. Mickey orates, "Hamza had a school of tars in a place called Abu Simbal and there were 40, 50 drummers from the school up on stage playing this beautiful 12-beat pattern, which was my favorite. And then Jerry came out, and Bobby came out, the band just joined in."
Hamza and his orchestra patted out the sacred wedding song" Ollin Arageed". The native tap-tap-tap-tap-tap-tap-tap-tap-tap-tap-tap-tap cycled into the familiar clap-clap-clap-clap-clap-clap of "Not Fade Away."
The 178 Deadheads who had chartered a 747 from the states did not miss a beat. The sound traveled past the monuments in the Valley of the Dead and all the way into metropolitan Cairo where First Lady Jehan Sadat had allowed the special permit for this unusual event.
Mickey smirks, "Another funny thing was they had a fire on the side of the stage where they would heat the drums and pass them out one by one, and they kept rotating the drums, with the humidity, the drums would sink in tone. And the fire was blazing, the drums were being heated up over the fire, they were being passed around and there we were in Egypt! There was Bill Walton, there was Bill Graham. Ken Kesey was there, all kinds of people came. It was wild."
As the sun set each evening silhouettes watched from the distance. Were they adversaries, onlookers, Isis, Osiris, Anubis? On the third night a Full Moon Lunar Eclipse at 23 degrees in Pisces shadowed the Sahara Sky. The nomadic Arab tribe, the Bedouins, emerged forth into the light. They tied their camels and secured their caravans to dance with the Deadheads to "Fire on a Mountain." This audible, astrological, intercultural confluence is believed to have opened another dimension.
In a film about his life, Bob Weir avowed, "Time went away. Future past, all of it was right here…when the pyramid was lined up with the Sphinx, I would hear echoes in a sound that seemed to go far beyond this place and time. At dusk the mosquitos come out and I looked at my arm and it was covered with mosquitos. And I'm thinking 'Ok welcome to hell.' And then something flies by my face.It was a bat. I look across the stage, and the stage is swarmed with bats and they're taking out the mosquitos. They're saving our asses! There's a rock n roll band on a thousands of year old stage, at the foot of the great pyramid, surrounded by a cloud of bats and I think to myself, 'Take me now Lord, I want to remember it just like this."
Late into the dark desert night, the entourage traveled by camel and horseback to an oasis, where there was talk of Israeli and Egyptian leaders at the US's Camp David reaching a Mid-East peace agreement. The compass always points.
In the month that followed, Mickey traveled by ship down the Nile River recording maritime songs with his new Nagra. A sojourn that would impact the preservation of indigenous music on a mass scale. He reflects, "So yes, so that's what happened with Hamza. We were friends until the end, and he taught me a lot. I loved him. He was one of my guides, one of my doors, one of the doors that I went through my rhythm door."
Drum Circles
In San Francisco in the mid-80s, Mickey opened a newspaper to see Babatunde Olatunji was playing nearby. The one whose album had awakened something within the young airmen in Madrid, so many roads ago. Hart recollects "He came to town at a club, and I went down there and I just got into a conga drum line or something. We were all playing and afterward I asked him, 'Hey, I'd like you to open for my band, at the Oakland Coliseum on New Year's Eve. And he didn't know who I was, and he never heard of the Grateful Dead. So he just kind of blew me off. And then I guess somebody told him afterward, and he called me and he said 'Yes, I'll be there.' And of course, he called all of his people from all over the world, and he opened for the Grateful Dead. Magnificent performance."
The Nigerian drum master's tribal beat amplified out through KFOG San Francisco Public Radio and a National TV broadcast. Mickey smiles, "And so he came into our world, and he became like Baba, like Dad, like father to all of these deadheads who wanted to learn about drum circles and about using the drum for healing, using the drum for meditation."
The primordial, familiar feel of drum circles quickly caught on. From Dead Show surroundings, they migrated onto college campuses and summer camps, corporate retreats and city squares. Varun Soni Ph.D. Dean of Religious life at the University of Southern California confirms, "Whenever the Grateful Dead performed with other musicians, Deadheads would do deep dives into their respective catalogues in order to learn about different genres and approaches."
Dr. Soni continues, "Through Mickey Hart's personal relationships and professional collaborations with other virtuoso percussionists like Alla Rakha, Zakir Hussain, Babatunde Olatunji and others, Deadheads were introduced to rhythmic sounds and styles from all over the world. As a result, they started their own drum circles and communities, and became part of an ancient and global percussion lineage of trance and transcendence."
That lineage reached critical mass in 2004 when Mickey's organization Rhythm for Life and Remo Belli distributed several thousand instruments to nearly 5,000 percussionists. Breaking the Guinness Book of World Records for largest drum ensemble. Mickey deduces, "So that's how it was, you felt powerful after a rhythm meditation."
A Call To All Nations
"Aaaaaaahhhhhhhhh…." The Dzintars Latvian Women's Choir reached a crescendo. Jerry Garcia leaned over Mickey's shoulder, "We got it." Mickey, sitting behind the soundboard at George Lucas's Skywalker Ranch lit up, "Yea that one was really powerful."
From the rainforests of Papa New Guinea to his son's heartbeat in utero, Mickey and his team have recorded, preserved and produced music and soundscapes from around the world. They created the "Endangered Music Project," a collaboration with the American Folklife Center at the Library of Congress, which presents recordings from musical traditions at risk. Their captures and curation have become "The Mickey Hart Collection" with the Smithsonian Institution. Mickey has produced albums of Hamza, Babatunde, Ustad Sultan Khan, Airto Moreira and Flora Purim, Native Americans, Indigenous Balinese, Haitian Vodou and many more. He has released 17 solo albums with consistent collaborators and introduced "World Music" to the masses.
In a pre-internet era, Hart and comrades like Frederic Lieberman, Elizabeth Cohen, and many others voraciously collected drums and information about drumming from all ends of the Earth. This resulted in a peg-board style organization system in his barn, lovingly referred to as the "Anaconda." Its molten skin became authored books Drumming at the Edge of Magic, Planet Drum, Spirit of Sound, and Songcatchers.
In 1996, 3.5 billion people watched the opening ceremony of the Centennial Olympics. Mickey, Zakir Hussain, Giovanni Hidalgo and Philip Glass's composition "Call to All Nations" was performed by more than a hundred local percussionists and singers from around the world. Boxing heavyweight Muhammad Ali lit the Olympic flame and fireworks flew up into the sky.  Somewhere out there, Jonesy was looking on saying, "You did it, man."
May All Beings
Local poet laureate, lyricist Robert Hunter handed Mickey an unmarked cassette tape of something he quick-recorded off of public radio. Mickey pressed play, rewind, pause, play for many years before discovering it was the only known recording of the Gyuto Monks of Tibet; an exiled people whose spiritual practice included multi-phonic vocalizing. That is, chanting three chord mantras from deep within their throat. The fervent collector was on a quest to meet and record them.
Some 15 years later, His Holiness the XIV Dalai Lama declared that the dharma should be experienced by everyone, and thus for the first time in history, allowed these powerful prayers to be recited outside of the monastic environments. Beloved Buddhist Scholar Tenzin Robert Thurman arranged for this sangha to come to Amherst, Massachusetts.
Author and Grateful Dead publicist Dennis McNally shares fondly, "Mickey's curiosity about the world, combined with the events of Tibet and them being in India, and so forth, morphed into something in front of our eyes. On an off day of the tour, Mickey, [sound engineer] Dan Healy with myself tagging along, went to Amherst College and recorded the monks. Over the course of the day Mickey was chatting with the abbot and said, 'Oh Well, doing shows is what we do. We'll do a show for you'. And he turns to me and says, 'Sell it out Denny'. With various people we did put on a show at Berkeley Community Theater. It was not only sold out, at intermission there were still five people hoping against hope sitting on the steps of the theater." This collaboration evolved into an album and West Coast Tour.
While traveling from Marin County to San Francisco's East Bay the monks intuited, "We sense a lot of pain over there." At their request, GD manager Danny Rifkin pulled over the passenger van so the Tibetan monks could do a side-of-the-road purification puja for the inmates of the San Quentin Prison.
Rifkin reached out to campus chaplain Earl Smith asking, "What's the single best thing we can do?" Smith responded, "Some kind of program for children of these prisoners would do more for their spirits and their hearts than anyone could imagine." McNally continues, "In the course of all this, Danny finds out, and shares with Mickey, about the choir, and the chapel, and Mickey who never met a sound he didn't need to record said, 'I have to record them.' So bit by bit the arrangements were made to have this recording session in the chapel."
Mickey and the team produced, He's All I Need, an album of the San Quentin Mass Choir. Chaplain Smith has said, "We had a mix of staff and inmates doing what had never been done before. We had female staff members join the choir, and correctional officers playing the organ and drums." In those moments they weren't prisoners, and guards, ("who" and "what") but Christians coming together to sing the gospel.
This unifying record was funded by the Grateful Dead's charitable arm, The Rex Foundation, and proceeds were returned to the prison ministry to enhance their programming. Danny Rifkin and Chaplain Smith co-founded Project Avary to assist children of incarcerated parents. Of their time together, traveling with and recording the Gyuto Monks, Tenzin Bob Thurman says, "The Grateful Dead, and the Gyuto monks being in the same business of transportation with people is correct. And of course, the transportation is to move them out of their habitual rigid identity, into some sort of higher vision, feeling connected to other beings and the universe in a positive way, seeing the possibility of love and compassion dominating over hatred and violence and horrible things in the world."
Basic Human Needs
Mickey and his equipment manager Ramrod backed a truck up to his barn. They loaded it with djembes, and cow bells, bullroarers and slit gongs, hoop drums and shakers, tambourines and gourds. Anything that made a noise. They drove it up to Woodstock MC, and humanitarian, Wavy Gravy's Camp Winnarainbow. This getaway for underserved youth had some pretty tough characters ages 7-14. Mickey wondered how he could help them break through to the "spirit side."
The disparate group played a variety of beats in the camp barn, and creek bed, until the campers clicked in together. One day Hart handed out copies of the The Ojibwa Dance Drum and declared they would be making their own power drum, his very first.
In Wavy's own words, "Mickey Hart brought rhythm to Camp Winnarainbow with a large and awesome drum he built from scratch with the camp children. The children participated in creating the drum fully, starting with obtaining a piece of cowhide and scraping it to prepare the drum skin and decorating the final product. Many of the children then repeated the process by creating their own treasured personal small drums to add to the ensemble which continued to accompany camp evening programs and fire circles year after year. After several years the big drum was loaned to the San Francisco Airport where it went on exhibit. How cool is that?"
Returning With The Elixir
Mickey's grandmother had Alzheimer's and hadn't spoken in almost a year. As they rode in a car together he characteristically beat a small drum. She smiled and said, "Mickey!" He recounts, "And I said, 'Grandma you spoke!' The drum had triggered that response in her."
Over the past 30 years, Mickey has been devoted to exploring the healing power of rhythm on damaged, diseased, or dysregulated systems in the body. He declares, "Shamans traditionally used drums and rattles to heal. So music and rhythm therapy isn't something we're inventing. But through scientific investigation we're greatly expanding our knowledge."
Hart addressed the U.S. Senate Committee on Aging about the healing effects of music, and is a board member of the nonprofit organization the Institute for Music and Neurologic Function. Mickey has been working with Adam Gazzaley, MD, PhD at the University of California San Francisco Sandler Neurosciences Center. Dr. Gazzaley warmly expresses, "Mickey and I have spent many years exploring rhythm and the brain to assess the benefits of a rhythm training experience on cognition. The results are very exciting and show a positive influence on memory in older adults. Planet Drum had a huge influence on me in the early 90s, as I set off on my path as a neuroscientist. Working with Mickey has been an incredible experience. He is always in rhythm and his mind never stops beating. I am incredibly grateful for his friendship and the influence he has had on my science."
To Go Up The River
Director Francis Ford Coppola was struggling to find the soundtrack to his film. He saw the "Drums" section of a Dead Show and sensed the solution was near. Mickey, Bill K, and their crew mic-ed every indigenous instrument they had, but none of it sounded like an airstrike. They knew they needed to build something special for the Apocalypse Now Sessions. The Beast and the Beam were born.
The Beast is a large piece of circular steel that Mickey's collection of percussive instruments hang from for easy action while in the zone. The Beam is based on Pythagoras's monochord. It is a piece of wood or metal with piano strings stretched across several feet and tuned to reach unbelievably low pitches.
Mickey explains, "These instruments take you on a slipstream, it's sort of like a superhighway of the senses if you will. Doing it in concert, I'm able to go down very low, down to 15 cycles, which is extremely low. It's almost where hearing drops out and you only have feeling. And I put that down every night, so people can go to these spaces, maybe called yogic spaces, where you feel something, you've never felt before, and it's calming, and they're centered, and it's spiritually rewarding, and it changes you."
While Coppola, concert goers, doctors, scientists, healers and even an astrophysicist love these sounds, perhaps no one more so than the basketball and broadcast legend Bill Walton who generously shares, "When I first came across the low-end of The Beam in the early 1970s, I knew immediately that I had found something so powerful, stimulating, personal, important, and critical to my overall well-being, that I had to have more…so I relentlessly badgered Mickey, until he had no choice but to get me my own. My first Beam, was the original one, from the first days of the Rhythm Devils and Apocalypse Now." Bill used it for many years, until he needed to return it to Mickey.
The NBA and UCLA player continues, "One New Year's Eve, at the Bill Graham Civic, where I was practicing counting backward to fulfill my sacred duties as Father Time, Mickey appeared, without a warning, and softly proclaimed, 'I have something for you.' Right then and there, Mickey presented me with my own personalized, brand new, and improved Beam, big, long, glistening, spectacular, gleaming in the golden light, with a beautiful engraved message, 'To Bill Walton, if it's worth playing, it's worth playing loud! Mickey Hart'
"I still play all the time, and loud too, sometimes the neighbors down the street call to ask if everything is OK, generally though, not until their houses start shaking…and when I'm privileged enough to witness Mickey play his Beams, I never hesitate to ask him to turn it up, so he can take us down, to the bottom, to the foundation, to the core, of life itself."
Mickey yells playfully, "Thank you Pythagoras, wherever you are!"
Planet Drum + In The Groove
Zakir Hussain is considered the pre-eminent tabla player of our time. He is a chief architect of the World Music movement who has received two of India's highest honors. Back in 1970, he was a 19-year-old new to NorCal. Zakir relives, "I visited Mickey at the barn in Novato, he handed me a strange looking hand drum and said, 'play this.' I looked at him and wondered why I am not asked to play tabla and proceeded to find my way with that drum. Suddenly all inhibitions about stepping out of my ancient tradition and creating a groove on an out of the box drum melted away and I found myself in a wonderous place. The beginning had commenced."
Zakir was teaching at the Ali Akbar School of Music in Berkeley, CA. Through his father Alla Rakha's arrangement, the young man joined the tribe who had taken residence in Hart's ranch. Mickey remarks, "And that was it, living as close as you could be as rhythm brothers since the 70s!"
Around this time, Hart was recording his first solo album. Zakir remembers, "Mickey sent me on a small Cessna plane to Reno to pick up Chief Rolling Thunder, we returned with the Chief and joined in on a prayer chant to bless the beginning of the recording process. It felt at that moment that we were collectively standing on a way different plateau of awareness; it was pristine and simple and felt blessed. That is when I knew that Mickey and I are tied together for the long groove run."
In the early '90s, Hart and Hussain assembled some of the greatest drummers alive to create a percussive ensemble and album. Planet Drum won the first-ever World Music Grammy. It spent an unprecedented 26 weeks at #1 on the Billboard Charts. Those lucky enough to get their hands on a copy would rip the cellophane off, crack the plastic case open, and get transported to another world.
It would still be a few years before the internet went public, so this was the first time the populace heard the sounds and rhythms of undisturbed Earth. There were Udu chants from Africa and hoop drums from the Artcic. Berimbaus, balafons, bamboo, bird chirps, windchimes and ocean waves. The language in the liner notes was like a treasure map to far-off lands.Who are the Yoruban? What are temple caves? How can you make a song by banging your hands against your chest?
Nigerian talking drum lineage holder, Sikiru Adepoju explains, "Planet Drum is not just a group of drummers. We are peacemakers and musical ambassadors. We are all drummers from different cultures. We don't speak the same language, but we have one common language: the language of the drum. We are always learning from each other. I never know what the music will sound like until it's finished. We compose the music instantly— not writing down notes, just listening and playing. Our music reaches a broader audience because it includes so many cultures. At our shows, Deadheads, Indian fans, Spanish fans, African fans, all jump up and down to the beat. Our rhythms bring people together in community."
Sikiru continues, " A lot of people don't know what "World Music" means, but it includes everything: Jazz, Blues, Rock, Reggae, Calypso, Afro-Beat, and Traditional Music, different languages, and different musical styles. We combine this all together in one, and create a new style known as "World Music." Musicologists regard Planet Drum as one of the most important records of the 20th century. In 2009, the ensemble won their second Grammy award for their album Global Drum Project.
Like almost everyone spinning on this sphere, these touring musicians' schedules reconfigured over the last two years. Of this liminal time Mickey ensures, "Once you see everything in rhythmic terms, you say well, war is bad rhythm, peace is good rhythm, love is good rhythm, hate bad rhythm. The world is out of rhythm, the world's out of time. How do you put it back together? Well, the only way I know, I don't go shoot them up, what I do is I use vibration and pull people into that slipstream and allow them to raise their consciousness. Vibration is everything in music and in life. If you have a misunderstanding with your partner, it's rhythmic, and you say okay, how can I put myself back in rhythm? Okay, this is out of rhythm, this is a rhythmic event. Oh, we got to find the groove again."
Mickey, Zakir, Sikiru, and Giovanni Hidalgo, a master of Latin rhythms of the conga, bongo and timbale joined together again to help mass consciousness get back in the groove. In early Spring, the Planet Drum Ensemble debuted elements of their new album to a sold-out crowd at Stanford University's Frost Theater.
Concert-goers were desperate to get out of their houses, hear music and hang out with friends, but were still a little uneasy about the precarious state of the world. Mickey implores, "That's why we made In The Groove a dance band record. I wanted people to dance, to move. You've got to change it up, you can't stay in your old groove. So the idea is to get your life in rhythm, and be able to enjoy it."
Four seconds into "King Clave," at the Frost and there was a notable shift. Sikuru states, "This song is special because it features Baba Olatunji's voice at the beginning. Baba passed away in 2003. His voice on the track keeps his memory alive and keeps his energy present. When we perform "King Clave", it feels like Baba is still right there standing with us."
The song's music video was co created with B-Corp, Playing for Change. It features more than fifty dance and percussive players from around the world including Zakir's brothers and Giovanni's father. It played within the United Nations' General Assembly to remind delegates of the universal heartbeat of humanity.
In The Groove was released on August 5th Planet Drum devotees remain amazed that these musicians keep achieving new potency of percussive medicine. Zakir adds, "In The Groove is the next step up on the ladder of rhythm cycle awareness on a more intimately collective level amongst us than ever before. We have been together for these 30 years, it felt like a blink of an eye but the deeper understanding of each other not just as friends but as keepers of our respective traditions is magnified a thousand-fold and that respect and reverence is on display here."
Giovanni notes, "I praise the Lord that he give me this great opportunity because it's not only a team, that's my family, a lot of loyalty, a lot of love and a great understanding. We can help heal the people with our rhythm. I've seen it happen."
Mickey closes, "I hope everybody who listens, really gets what we put into it, out of it."
Don't Tell Me This Town Ain't Got No Heart
"Bwwwwoooiiiaaaaainngggghhhhhh"
"Bwwwwoooiiiaaaannnggggghhhhhh"
Two downbeats of the song "Shakedown Street" and 70,000 people jump to their feet. It was Saturday night of the "Fare Thee Well" concerts. A reunion deemed by press as "the last show." Little did they know. It had been 20 years since The Grateful Dead played Chicago's Soldier Field Stadium. Jerry Garcia's transition out of the Earth Plane, left many to miss him in a "longtime way." Now here it was two decades gone by and the soul of the music, and the spirit of the community as alive as ever.
The Chicago PD estimated that almost 300,000 deadheads descended on the city, with cover bands playing in airports across America. Planes were filled with new-old-friends, trading road trip tales spanning half a century. Folks shared photos of their grown kids named after Dead lyrics, and grandchildren born to these tunes. Former college housemates got hall passes from their wives for the weekend and a new generation who never saw Jerry, ran up railings and jumped over walls to catch a glimpse of the living legends up on the stage. Gasps, shrieks, and rose-handed hugs enveloped kith and kin; reigniting relations shrouded in time.
Mickey wrapped out the teary-eyed moments of the final bow by saying, "The feeling we have here — remember it, take it home and do some good with it." An undeniable imprint was left on all who attended, and the 175,000 who watched from home. By New Years Eve, a new incarnation of the Grateful Dead wheel had turned.
Dead and Company has been touring as steadily as possible for the past seven years. Mickey marvels, "We're all quite taken back by how its flipped generations. Its like a flip card and all of a sudden here you are from the 1960s, we're out here in the 2000s, and they're grooving on it, they're dancing to it, they know the lyrics, it's a spiritual thing." Just like mantras remembered from lifetimes ago, fans effortlessly sing along to every song. Of the 400+ originals in the Grateful Dead catalogue, historians note that "Drums" has been played the most. This second-set staple is a time when Mickey and Billy draw concertgoers into the percussive groove of the world beat. Join the slipstream. Ride the horse.
In the cyclical motif from which the Grateful Dead pulled their name, so too, the band has invited others to join them on this voyage. Dead and Co bassist Oteil Burbridge has recently accompanied the duo for the "Drums and Space" part of the show.
Oteil emotes, "I'm really honored to have officially been made a Rhythm Devil. Drums were actually my first instrument so getting to play drums and space every night makes me feel that same magic I felt as a kid. That sense of wonder never goes away. It's amazing to think how long he's been doing it and that he still hits so friggin hard! He's done and is still doing so much for drums and music in general on this planet. Mickey's spirit is irrepressible. Truly. It's really something to behold."
Dead and Co's tours sell out in seconds, and entire internet forums are dedicated to trading tickets. The subculture that has surrounded this band continues to course across the country (and to Mexico!).
Mickey muses, "I look out there and I'm the only one that ages. They're still 20, 30, 40 years old. This music seems to be built to last, I guess. With Dead and Co. we were playing stadiums, sometimes two nights in a row. It's enormous, the amount of Deadheads that are coming out. It seems as though the Dead music and the Dead culture have been passed down through generations like father to son, father to daughter, mother to sister and all that stuff until finally it's flipped its way into this century, this decade. So how, why? It's probably because of the trance, because of the zone that we play in, because of the kind of music we play…so yes, it came full circle, and I'm just amazed, powerful spiritual material, that's the only way you can explain this."
Hart pauses thoughtfully and continues, "It's also a community, many bands don't have communities, they have audiences, they come and go. So I guess it's completely different, the universe, psychologically, physiologically, it's people getting together that are like-minded, that are calm and peaceful, love each other. They take what they have felt at the concert and do some good with it out in the world. And that's the best payoff you can get. I always think 'don't leave it here kids, this feeling, take it home, do some good with it', and that's really what's behind all this. Besides having a great time, laughing and playing music and making a living, and so forth, it's knowing that it makes for a better world."
Mickey continues, "So it's been an incredible ride and it's not over yet."
God Is Sound
There are few people on the planet who have surrendered themselves to sound vibration as fiercely as Mickey Hart. Talking about a life of trance and transcendence, rhythm and rock n roll, producing, preservation, and music as medicine,  the transportation captain, mahatma Mickey Hart simply states, 
"Basically, I use this as my meditation, as my yoga. I stretch, and I do my yoga poses every day. I'm constantly on my mat. But music takes you there, it really takes you there."
Nada Brahma. God Is Sound.
Get In The Groove
The Dolby Atmos mix of In The Groove is now available here. This revolutionary technology allows for an immersive percussive experience, with drum beats and vibrations enveloping the listener above, below and around them. Stream In The Groove here. To learn more about the Planet Drum ensemble check out: PlanetDrum.com/.
To keep up with Mickey Hart, visit his website and social media channels; MickeyHart.Net, FB,  IG.
#ForeverGrateful
Author's Note; Infinite thanks to all who contributed to this offering in words, images and energy including; Rachel Anne, Susana Millman, Dennis McNally, Jay Blakesberg, Bob Minkin, Rosie McGee, Adrian Boot, Zakir Hussain, Sikiru Adepoju, Giovanni Hidalgo, Oteil Burbridge, Bill Walton, Wavy Gravy, Adam Gazzaley, MD, PhD, Tenzin Bob Thurman, Varun Soni, Ph.D., Chaplain Earl Smith, John Werner, John Storey, Jahanara Romney, Jen Fountain, Karen Wiessen, Rose, Ben Baruch, Felicia Tomasko, Anna Rychlik, SI, NB, NK, MZ, AA, BG, The GD, PDE and of course…Mickey Hart. #NFA
For source citations, copyright info, collaborations please email; [email protected]