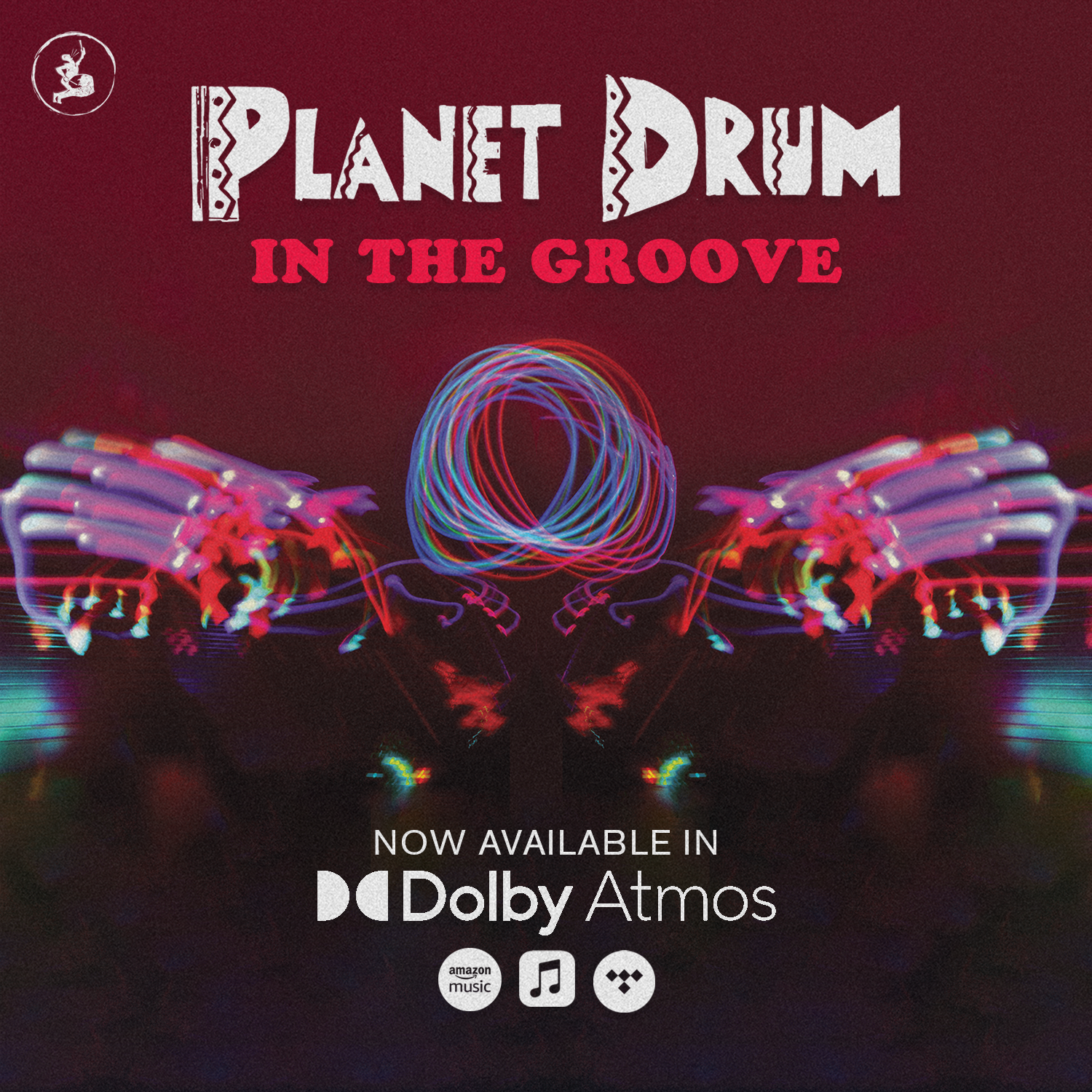 In The Groove – Out Now on DOLBY ATMOS
"In the Groove" by Planet Drum in Dolby Atmos is NOW available!
TUNE IN – https://fanlink.to/planet-drum-atmos
The coolest immersive sound recording we have ever made. The Dolby Atmos version of Planet Drum's new album, "In the Groove."
I am overwhelmed by your response to the new Planet Drum recording. The reason we called this record "In the Groove" is because it was made for the dance. It has a deep groove and all the bells and whistles. This baby was born as the pandemic set in. We used the internet to record all over the world with our friends and family. We even mixed and arranged online. We communicated over huge distances, something I never thought I'd see be so easily and accurately done. California to Mumbai, Paris, all over the world. Zakir and I worked diligently in the making of the stereo version and now comes the sonic wonder of a new technology, Dolby Atmos. This leap in sound reproduction is truly amazing. Atmos expands not only the sound but also expands the mind by stretching your ears.
We are now bathed in sound. It is now everywhere. Not just behind you, but on top of you, to the right of you, to the left of you, to the front of you. The sound is not coming directly at you, it's all around your head. It becomes an extraordinary soundscape, in headphones as it is in a surround sound-system. Atmos is the next step of surround, percussion is the perfect vehicle to get there.
Hearing drum ensembles in immersive audio is like being in the center of an Olympic drum circle. This Atmos mix places drums all around you- above, below and dancing around the room. There's something that can be accomplished with percussion in this way that is impossible with other instruments. Here you are, in the rhythmic center, with the greatest drummers from all four corners, surrounding you. The sound now becomes an auditory bridge. Vibration is one of the ordering principles of the universe, and one of its greatest mysteries. As we explore vibration and its vital rhythms, we have the power to extract the new and bridge ourselves to our interior worlds.
This is what Dolby Atmos does to me. It's just part of our journey in the exploration of the use of sound to not only listen and dance to but as a tool for healing. The sound now becomes a vehicle for the trance. As scientists look at the correlation between EEGs and Music, they are beginning to be able to see the microstates or real-time maps of the brain processing music.
ENJOY